By Tyler Durden (via Zero Hedge)
Earlier today, Mitch McConnell blasted the "Outrage Industrial Complex" over the lemming-like response to Georgia's voting integrity reforms.
"Our private sector must stop taking cues from the Outrage-Industrial Complex," McConnell added. "Americans do not need or want big business to amplify disinformation or react to every manufactured controversy with frantic left-wing signaling."
It turns out McConnell is right and in fact, a new AP-NORC poll released Friday shows an overwhelming amount of American support requiring identification to vote.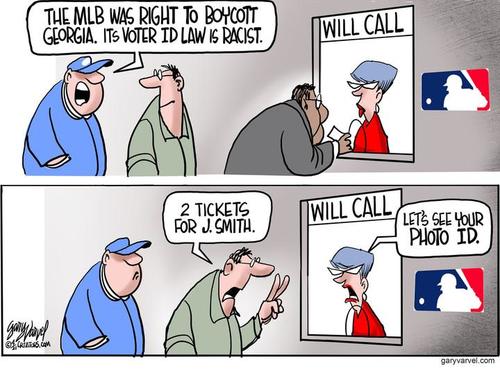 Voter identification requirements are supported by 72% of the public. That popularity is largely driven by support from Republicans, 91% of whom support a requirement that all voters provide photo identification in order to cast their ballot.
However, as the poll shows, 56% of Democrats also support requiring photo ID to vote.

As AmericanThinker's Eric Utter recently noted, we live in a hyper-credentialed society.
Little girls need a government-granted license to sell lemonade at their sidewalk stands.
One must provide a valid photo I.D. and be vetted by the FBI's National Instant Criminal Background Check System (NICS) – and possibly be subject to a several-day waiting period – to purchase a firearm.
One must present a current, valid photo I.D. to cash a check, or buy a loaf of bread, a six-pack of beer, or pack of smokes at a grocery store.
Want to board a plane? I.D. please.
And probably soon, a vaccine I.D.
But one should never have to be troubled to identify oneself to vote for the most powerful person on earth, say Democrats. That would be racist!