BY TYLER DURDEN (via Zero Hedge)
As a surprising number of Americans (mostly millennials who face lower risks) miss their second COVID-19 vaccine dose, the Wall Street Journal has become the latest MSM media outlet to point out the fact that unused jabs are piling up in states across the US, despite the fact that every American over the age of 16 is now technically eligible.
And as President Biden introduces a tax credit for small businesses to enable them to offset any paid leave offered to employees as a result of receiving or recovering from their vaccinations, a growing number of states who led the charge during the early stages of the vaccine rollout have seen their efforts sputter. As we noted earlier, this has prompted public health officials to call for a more involved approach to distributing vaccines, creating more opportunities for those who are skeptical of the jab to receive their vaccines from their own doctors, in the hopes that it might coax them to comply.
Some states that led the way early in the vaccine rollout have found it hard to sustain their success. In mid-February, Alaska, New Mexico and West Virginia saw at least one in seven residents get a shot, well ahead of the one-in-10 rate nationally. But as vaccine eligibility has expanded, only New Mexico remains in the top 20 states for vaccination rates among those early leaders. In their place, states along the east and west coasts have emerged, though these states too are starting to see demand slacken.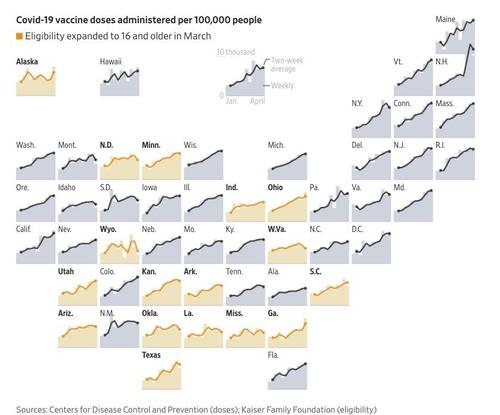 Source: WSJ
States in the Mountain West and the South have led the slowdown, while a survey from the Census Bureau found that these states lead the US in vaccine skepticism.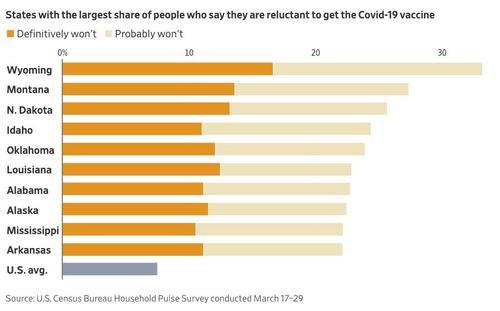 Source: WSJ
As Dr. Scott Gottlieb recently warned, the biggest obstacle to vaccine-induced "herd immunity" isn't supply, but Americans' willingness to get the jab. Racial and ethnic divisions in terms of demand have largely disappeared, and in their place, are divisions by age group, and education level.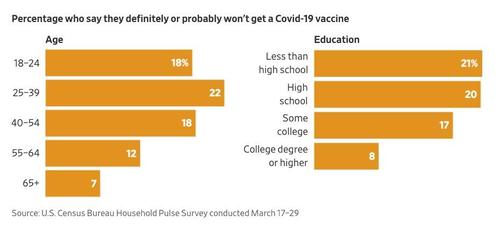 Source: WSJ
A separate national survey, conducted by the Kaiser Family Foundation, also found deep divisions along party lines, with Republicans nearly three times as likely as Democrats to express reluctance to being vaccinated, while rural Americans were also more reluctant than city-dwellers (perhaps because they live in less densely populated communities).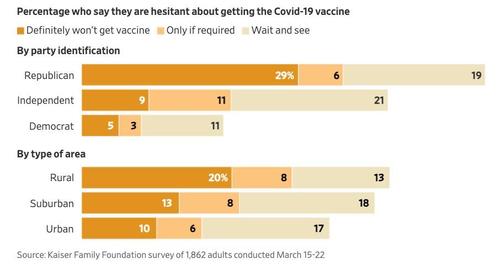 Source: WSJ
While focus on the vaccination drive intensifies, the global COVID-19 pandemic is accelerating at its fastest pace in months. The number of new global cases accelerated last week at its fastest pace yet, thanks to India's worsening second wave. Some states have reportedly turned down vaccine shipments, with Louisiana no longer asking the federal government for its full allotment, according to USA Today.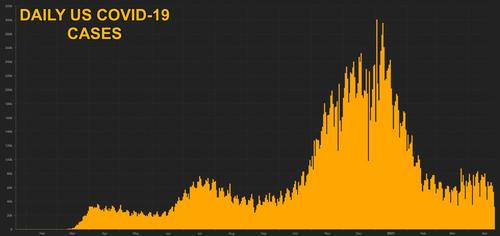 Source: Johns Hopkins
Demand is falling even though no state has yet reached the threshold for "herd immunity", a standard that some public health experts now believe may never be reached. More than 1 billion vaccines have been administered worldwide, according to Bloomberg's vaccine tracker, though supplies overwhelmingly favor western developed nations like the US, and China.
While the US outbreak appears once again to have plateaued (despite the surge in India and concerns that it might lead to a broader resurgence), Dr. Anthony Fauci has finally flip flopped on requirements to wear masks outdoors, admitting finally that the risk of contracting the virus outdoors is minuscule.