BY TYLER DURDEN (via Zero Hedge)
Christian Angermayer built his portfolio the old fashioned way: by taking psychedelics and buying bitcoin.
That's the actual story of the 42 year old German billionaire that was highlighted by Bloomberg on Thursday. He literally "rode the wave" of every big fad over the last 12 months – including bitcoin and SPACs – and made a fortune in the process.
His family office is called Apeiron Investment Group and has been the lead investor in 7 companies that have gone public in the last year, raising more than $1 billion combined. He has 10 more companies slated to IPO this year.
Angermayer took his first trip on psychedelics in 2015 before investing in companies that are in the space. A conversation with a neuroscientist at a dinner party is what turned him on to the idea of magic mushrooms, despite the fact that he doesn't drink alcohol. "It was the single most meaningful thing I've ever done in my whole life, nothing really comes close," he said of his first trip, which took place in the Caribbean.
After the trip, he claimed he "finally understood bitcoin". From there, it became a feedback loop of investing in the things he was passionate about while riding the crypto wave that has swollen over the last half decade.
On his investing style, he said: "I just invest in what I'm very curious and passionate about," he told Bloomberg. The report calls him the "German version of Chamath Palihapitiya".
But he doesn't have as big of a presence on social media as Chamath. This hasn't stopped him from cultivating serious relationships with influential investors like SoftBank and Peter Thiel.
Bitcoin bull Mike Novogratz said of Angermayer: "He's probably the best networker I've ever met. He's built this amazing network of people who like and have learned to trust him because he's made them money. As a capital raiser, he's awesome."
Angermayer's office, based in Malta, "helped China's HNA Group purchase 9.9% of Deutsche Bank AG stock in 2017′ and received a finder's fee of $15.6 million for introducing executives at SoftBank and the now-defunct Wirecard.
Apeiron has $2.5 billion in assets, half of which are Angermayer's. The fund "has averaged an annual internal return of more than 50% over the past decade", according to Bloomberg. The portfolio is full of companies like AbCellera Biologics, which has developed an antibody drug for Covid and Compass Pathways, a psilocybin-focused depression treatment company that we highlighted shortly after it went public.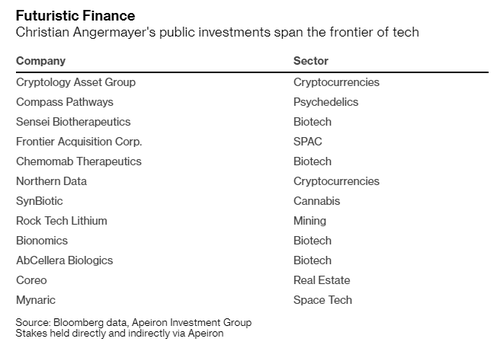 He has also produced or executive produced 21 different movies, the report notes. Thiel said of him that his curiosity "allows him to recognize trends very early or invent and create an entire sector himself."
Benedikt Franke, CEO of the Munich Security Conference said of him: "He is an investor who has fully understood the importance of geopolitics for long-term strategy."
Angermayer added: "I understand politicians better than investors. One reason I'm very happy is I'm very honest with myself. I want everybody to like me."
When asked what type of hedging he uses, Angermayer responded: "None".